Just peering into the windows of FD Gallery, I feel like a kid in a candy shop. And no wonder, the rare jewels of Van Cleef & Arpels are displayed with cupcakes, while Cartier confections hold their own when showcased with fruit tarts, chocolate truffles  are surrounding Susan Belperron (0r the other way around) . And, that's just at first glance.  Walking into the store, my attention span has lapsed. Not just sensory overload— but remarkable one of kind antique and vintage jewelry-all-in-one-place-and-I-get-to-play-with-it-all—joy! I want this, no this, no, this. Okay, I just want everything.
Actually, when my hearts stops fluttering, I realize FD Gallery carries my personal favorites: pieces created in the 18th and 19th century, and there is myriad selection in this time period for me to live happily ever after in this jeweled wonderland.
My eyes dart to the Russian "Faith, Hope and Charity" motif in rose diamonds on an oval gold locket. I am transfixed by the serpent jewels, the memorial rings and the myriad pendants—that I am already imagining layering around my neck.
Perhaps my favorite piece in the entire shop, being the sentimentalist that I am, is an antique French gold and silver "Je T'aime un peu, Beaucoup, Passionnement" bracelet, which literally translates into " he loves me a little, a lot, passionately" And for those of us who have picked the petals off of daisies for much of our lives, it is interpreted into "he loves me; he loves me not." The detail of the center of the daisies and the carving of the entire bracelet has me awestruck when I try it on. Somehow I get a case of clasp amnesia and am unable to get it off.
From the outside, FD gives the appearance of seemingly small shop on the charming east 65th street between Fifth and Madison, with pretty brownstones and a stones throw across the Central Park from my own home on west 65th Street. but once inside the central showcases which house Cartier and Van Cleef & Arpels, along with other cases, featuring works by a who's-who roster of the most famous jewelers of the 20th Century: Taffin, JAR and Wallace Chan;Bulgari, Boivin, Suzanne Belperron, Flato, Tiffany, Verdura and Boucheron .
And, having just finished a book which features these renowned houses' most famous jewels- my appreciation has grown even stronger (as if that were possible) – and in addition to the wearable gems – I am coveting Van Cleef & Arpels turquoise, ruby, gold and silver and lacquer minaudiere vanity case
Retirement plan? I am truly rethinking that whole thing when I can wear all of this jewelry NOW.
The shop continues on with wall cases and a relaxing salon in the back in which to sit back,  try on pieces and eye the chocolate truffles and jars full of sweet and sour candy. Anyone who knows me—knows my sweet tooth might just be as strong as my passion for jewelry. I can easily be spotted with a handful of Gummi Bears as well as fingers full of rings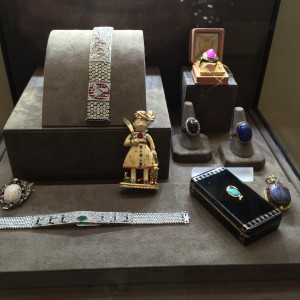 Partner's FionaDruckenmiller and Fernando Bustillo opened FD  Gallery because they realized that " jewelry collector's could never find one place that meet all of their needs." Druckenmiller explains. "I believe that collecting exquisite pieces is both an emotional and intellectual pursuit."
She continues, "Women have been powerfully drawn to jewelry for millennia. A woman may express herself best with her eyes, her gestures, her kindness and her wisdom, but she also takes an instinctive pleasure in adornment and can feel transformed when she is wearing something lovely. Jewelry plays some role in almost every woman's life. I hope to make the act of buying and collecting jewelry a special experience. For although our relationship to jewelry will always retain some mystery."
And with similar feelings about jewelry, I have, of course, put aside – and I will be back. If you can't stop in personally, You can also see pieces online and  call  for further information on a piece or pieces you are interested in.