About Me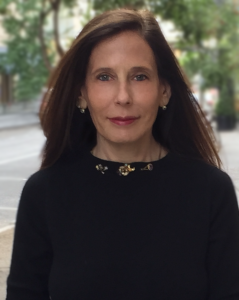 Beth Bernstein is a jewelry historian, jewelry expert and collector of period and modern jewels—a purveyor of all things sparkly. She has a romance going on with the legend, language and sentiment behind the pieces. Her love for the story has inspired Beth to pen three books, with a fourth one in the works, and to spend the past twenty years as an editor and writer on the subject of jewels-old and new. She is a die-hard jewelry fan, so much so that she has designed her own collection throughout the 90s and continues to create bespoke jewels.
She owns a comprehensive consulting agency Plan B which provides a roster of services in multiple facets of the jewelry industry. These include building, launching and evolving designer brands and retail brick & mortar/online shops and curating designer shows and private collections.
Her areas of specialty include:
WRITING
A Skilled writer/editor, she freelances for consumer and trade magazines with experience in both print and online publications.
Her three books include:
"If These Jewels Could Talk: The Legends behind Celebrity Gems" (ACC Art Books, 2015) A historical/coffee table style book which provides an inside peek into the legends as well as heartfelt narratives and humorous anecdotes behind the famous jewels Hollywood Royalty, Aristocracy Icons and jewelers of the 20th-21st Century. Michel Aliaga Associate Director of Cartier Paris says, "The book is aspirational and magical. I'm sure it will be beyond the expectations of the aficionados of jewels and glamour!"
"My Charmed Life: Rocky Romances, Precious Family Connections And Searching For A Band of Gold" (Penguin, 2012). —A memoir, which links her life, losses, family, and loves with her most significant pieces of jewelry.
"Jewelry' Shining Stars: Shaping Today's Collectibles and Tomorrow's Heirlooms" (Fine Points Publishing, 2013)—A coffee table book, featuring 38 talent's shaping jewelry's future, with a foreword by Stephen Webster.
Beth possesses multifaceted capabilities, an entrepreneurial spirit and the ability to conceptualize, launch and successfully take projects from beginning to end. She has built and continues to maintain strong relationships with designers, retailers, press offices and industry professionals and her many clients. She is revered in her field for her experience and knowledge and for her exuberance and sheer joy in the way she approaches each aspect of her career.
Beth Bernstein is a member of
ASJH-American Society of Jewelry Historians
WJA-Women's Jewelry Association
She has lectured and created panel discussions for various organizations and trade show events and sat on numerous panels as a judge for new talent in the jewelry industry.