Testimonials
Independent Designer discuss my editorial style and my coverage of them, how it led to more exposure and success in their businesses.
"A sensitive pen full of emotions and knowledge, with an open eye over the history of jewelry. Beth Bernstein embodies noble journalism" –Selim Mouzannar/Selim Mouzannar
"Ever since I met Beth Bernstein in 2008, she took a great interest in me and my collection. She asked all the right questions for a designer who was first launching his own collections after working for other people in the industry. Her depth of knowledge and passion for the smaller independent designer was immediately present in her articles for multiple magazines. She gave freely of her time and input and I remember there was a whole group of designers really getting off the ground with their designs. Beth tapped into these designers, including me and I will always be grateful for the space she gave me in her articles, her understanding of my collection and her continuous support in my evolution"
–Moritz Glik/Moritz Glik
Beth was the first foreign jewelry journalist to be curious about our brand. She had noticed it on Instagram and at the time we were very small and unknown. Being recognized by a legend in the jewelry community such as Beth gave me wings. It allowed me to believe that I was going in the right direction. It was a very difficult time to be an entrepreneur during the pandemic but Beth's support and exposure of my collection through articles was invaluable and gave legitimacy to the company. I have evolved so much in the past three years and the first one who I want to see and get feedback from the collection is Beth. I want to make her proud that she discovered me and to always follow us, give us feedback and as I rely very much on her instincts and her knowledge of jewelry, from a style, historical and business point of view.
-Marie Lichtenberg/Marie Lichtenberg
"Beth has an eye for recognizing rising talent, and she doesn't wait until there is a buzz for her to notice. She brings the buzz. She was so excited about my collection, and really helped me launch my career by consistently covering my work before I had any success in business. Beth has always been a champion of the small independent designers, and genuinely wants to see them succeed. She will be your greatest cheerleader."
-Sara Freedenfeld / Amali Jewelry
"I have known Beth Bernstein since I Launched my jewelry business in 2006. When I met her she was working for multiple magazines and she gave so much space to burgeoning designers. She took such an interest in my work, my process and my evolution over the years and continued to cover and follow me. She is a gem in this industry as she has always made it a priority to seek out the new and emerging designers and she has an uncanny sense for spotting and covering the most distinctive designers with unique points of view. I value her contribution to the jewelry industry greatly and I wish there were more editors/writers like her who can also capture so eloquently in words each designer's story and sensibility"
– Erica Molinari.
Beth Bernstein is one-of-a-kind. Her expertise in the field makes her an incredible commentator in the world of fine jewelry, and her support of independent designers is invaluable.
–Nak Armstrong
"Beth Bernstein has always been a champion of independent designers. She has supported us from the beginning, and continues to support us now, which we are truly thankful for."
-Kim And Nicole Corsella/Sorellina
"Beth has been such a wonderful support, she took my jewelry to new heights by writing about my work in multiple articles, including an entire feature in Forbes (!), ultimately expanding my exposure in the US. I will be forever grateful that Beth took an interest in my work, as a small independent jeweler it gave me that confidence to keep designing and moving forward!"
-Cece Fein Hughes/Cece Jewellery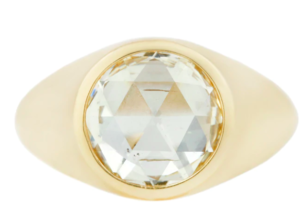 "Beth is the true jewelry connoisseur. She is one of the few people that I've met in the industry who literally adores jewelry from every angle. She is a jewelry editor, a jewelry collector, antique coveter, and loves everything that the jewelry industry has to offer. Beth's been known for spotting early talent and is always supporting talented brands, no matter how big or small. She's a true jewelry cheerleader and the industry would not be the same without her enthusiasm and love for jewelry."
-Lauren Wolf/ Lauren Wolf Jewelry/Esqueleto Stores
"Beth Bernstein is a connoisseur of jewelry – literally all things jewelry – from writing books and articles to a vast knowledge that encompasses antique/vintage and contemporary jewelry as well as showcasing the individuals behind the sparkling baubles. A little secret… Beth is often the woman behind the scenes that designers go to get feedback or input into a piece or even a collection. Her honesty is refreshing. And Beth is a true advocate for designers – from those just starting out to the well established. Speaking from experience, having Beth cover your line gives it a global platform – and when you're just starting out that can make all the difference. It's this true love for jewelry that makes Beth a rare gem in the industry."
-Susan Cohen/Circa 1700
"Beth Bernstein is a powerhouse in the jewelry industry and an invaluable resource for all designers, especially the emerging ones. Not only does she take a genuine interest in designers' stories and collections, but also she supports them as both a friend and a journalist, which is one of the most incredible gifts a designer can receive. When I started DRU. in 2016, Beth was the first person to believe in me, cheer for my achievements, and offer guidance and perspective when it was needed. Beth continues to be one of my most trusted allies. Her knowledge of jewelry's history; ability to forecast trends; personal experience in the business; and continued integrity, kindness, and passion are appreciated by all who have the honor and pleasure of working with her."
"We were fortunate enough to meet Beth Bernstein early in our career when we were still feeling our way through the jewelry business. Beth has always had a fabulously sharp eye for unique design, has been a large advocate for talented fledgling designers, and most importantly supported these designers tirelessly throughout the years through her many media outlets including InDesign, Lustre Magazine and Forbes to name a few. Borgioni was featured in Beth's book Jewelry's Shining Stars, which lies amongst our very favorite books on our coffee table. We remain grateful for Beth's support, as well as her continuing expertise and knowledge in the industry, as she continues to help spread brand awareness to the best talents in the jewelry world."
-Tiffany Bartolacci /Borgioni
"Beth's vast knowledge of both contemporary and antique jewelry is so meaningful to designers like me, who fuse past and present in their work. This unique understanding my craft has made Beth an incredible source of support since I launched my brand in 2004, and it has been a pleasure to work with her over the years."
-Arman Sarkisyan /Arman Sarkisyan
"Beth is not only known for her discerning eye for talent, but for championing budding designers as they build a name for themselves. It's been very special to have her follow my career for over 25 years, supporting me each step of the way as I develop my brand."
-Colette Steckel/Colette
"To say Beth stumbled upon my collection isn't figurative. At one of my very first tradeshows, under the weight of an enormous bag bulging with line sheets and press material, hands and arms stuffed with notebooks and magazines, editor Beth Bernstein stole a moment in a far-off corner to readjust her hoard. Serendipitously, she flopped down directly in front of my out-of-the-way booth. In that moment, crouched on the floor, no proper introductions, no handshakes or pleasantries, just a nose pressed against a case, she noticed me. Green and unsure, my work was disjointed and the collection sparse, but she saw potential and began to encourage me, soon featuring my pieces in the magazines she wrote for, offering industry guidance and insight. Identifying new artists is one of Beth's great talents and supporting them one of her great joys, and how lucky I am to have met her so early on, for undoubtedly, she changed the trajectory of my career through both mentorship and continued support."
-Megan Thorne/Megan Thorne
"Beth Bernstein is a jewelry historian and industry expert. Beth has a passion for jewelry beyond the numerous articles she has written as a personal collector and purveyor of jewels. Beth's expertise is evidenced in her four books as well as numerous interviews with industry professionals. Beth is a true treasure to the jewelry industry as a huge supporter of modern, independent designers like me. Her continued support through numerous mentions has been an integral part of our ability to remain competitive and successful in the jewelry market."
– Grace Lee
"Beth is the raconteur of our jewelry community. We are so lucky to have a historian of her caliber interpreting our designs and telling our stories."
– Anita Ko
"Beth has the unique ability to both discover and help propel young talent into the jewelry landscape. Her background and breadth of experience poise her to uncover stories and talent in all design sectors — from vintage to modern, to nouveau. She helped propel my business to new heights by including my story and design in a number of roundups, articles, and interviews. I will forever thank her for her interest in my work, and in emerging designers everywhere. Love, love, love working with her."
– Michelle Berlinger/Berlinger Jewelry
"It is always a pleasure to work with Beth and I was also lucky enough to meet her in person one I was able to travel back to the US from Italy when the pandemic restrictions were lifted. She is very supportive of young brands and from someone that is so knowledgeable and has seen it all in jewelry, it is an honor!"
– Bea Bongiasca
"Beth has been a huge supporter of our brand since its infancy and her belief in my jewelry and design since the beginning has been a significant form of encouragement to me. Beth's ability to identify young independent brands and place them at the forefront of the industry is unique. Her articles are insightful, engaging and informative and I hope to continue to be inspired by her knowledge and insight in the world of jewelry."
– Ananya