Back on September 12, 2013, I wrote an advance blog about the Jewels by JAR exhibition, to offer a glimpse of the first time that the magnificent jewelry house would not only have a retrospective in the US but also the first time Metropolitan Museum would devote an exhibit to a contemporary artist of gems.
And it is well deserved. At the press preview yesterday, for Jewels by JAR, which opens to the public today (November 19, 2013) at the Metropolitan Museum of Art, I expected to be overcome with awe, swept away by the magic of the splendor, opulence and the wit in which Bronx born and Harvard educated Joel Rosenthal imbues his pieces. But I was more than that—I was transfixed—and rendered speechless, which is not a usual occurrence for me. In my previous blog, I wrote that, although,I have been to many of the ateliers of Place Vendome and the workshops and studios of many famous jewelers, I have never had the excitement of pressing the bronze camellia doorbell to enter the secret and hidden shop of JAR which Joel Rosenthal opened in 1978 with his partner Pierre Jeannet. This is the place, where Rosenthal's opulent and fantastical, sometimes whimsical and always meticulously crafted jewels are presented and captivate and possess even the most discriminating of collector.
Yesterday, I too was possessed. I have to admit that I am blind in the dark–not able to see or get my bearings and and need more than a flash light or nigh light,  even at night  in my own house. But, in the dramatic darkened room, I was guided by the twinkle of fluttering butterflies(designed in the 1980s through the present) dancing brilliantly in fearless gemstone combinations and pave settings—the stuff that Rosenthal's jewelry is made. The jeweler, who is acclaimed for his vivid and boundless imagination, the painterly color combinations and the articulated shapes is equally notorious for keeping to himself. Some say he is shy, others say arrogant, but who really cares except for the fact that he is also quite discriminatory when it come to the press and gives interviews only to very few, hence his absence from the preview. But his essence was all around us.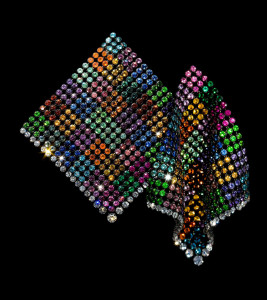 There are over 400 of his works on view from his earliest ring—to pieces that he has created just in time for the show. Most of the pieces were lent by private collectors. His range is boundless, his inspirations far reaching from fruits and vegetables to animals to my all time favorites the JAR flowers—which he creates with such precision that it will be difficult to look at a lilac, poppy, camellia, rose or lily of the valley again without thinking of it in a sparkling mix of gemstones and metals that bring these botanicals to life.
But I also can't resist the folded handkerchief pieces, the emerald and diamond earrings, the majestic crowns and well, just about everything in the show.
The exhibition curator Jane Adlin said the concept of a JAR retrospective was brought to the Costume Institute more than four years ago by a friend of the jeweler's, but was turned down as the Institute focuses solely on costume jewelry The idea was then brought to the museum's Department of Modern and Contemporary Art, who jumped at the opportunity. Adlin explains, "I think Joel is best known for his technique of pavé. He's discriminating but indiscriminate in his use of gemstones," Adlin said. "So he'll mix very, very fine perfectly cut, perfectly flawless gemstones with some that are not. He will use lesser quality stones. He will use lesser-known stones. But the outcome is this extraordinary piece of jewelry, which if you just put it on your dresser or your coffee table it would in fact be a piece of sculpture."
The exhibit runs through March 9th, 2014
And, like in OZ, I might never get to meet "the man behind the curtain" but after first seeing a few pieces of his jewelry at a time at Christie's and Sotheby's, it was awe inspiring to see the breadth and life of Rosenthal's 35 years in one place.
Two days before the show, I also read Cathy Horn's article in The New York Times Fashion and Style section in which she asks Rosenthal whether if he ever thought of selling his company.
"To sell the company would be to betray all the people who have ever come to us," he said, "because I'm then giving the right to the buyer to sign JAR on a piece that has nothing to do with JAR."
He added: "People have said to me, 'Ah, you could buy a palazzo.' I don't want a palazzo. I don't want anything domestic. I like hotels. Leave me alone!"
He laughed with delight and then reflected: "It took me 20 years to convince my friends that JAR would never be for sale. Over my dead rubies, honey." http://www.nytimes.com/2013/11/17/fashion/For-the-Jeweler-of-JAR-Joel-A-Rosenthal-All-That-Bedazzles.html?ref=
And with that classic line—I have to just say—there are no jewels like JAR.
Also please see my previous post http://www.beth-bernstein.com/2013/09/12/a-first-for-everything-the-grand-jewels-of-jar-come-to-the-met/