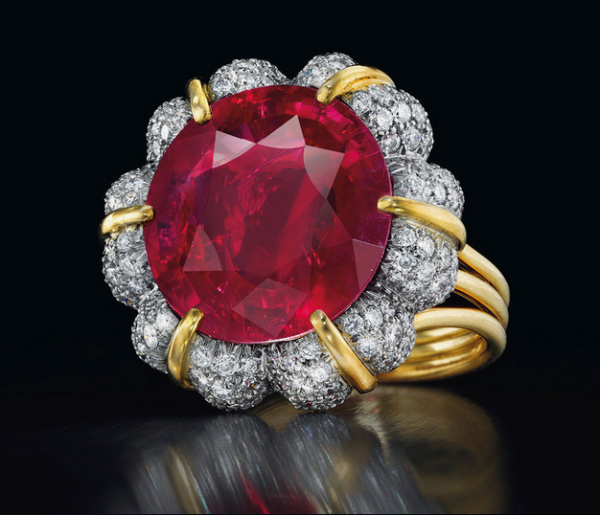 This weekend I went auction preview hopping in New York City: Bonham's Fine Jewelry and Christie's and Sotheby's Magnificent Jewels sales. And, upon returning home, I began to think, that, in a parallel universe, if I had the means to purchase any jewel I desired or—if I had a man in my life, say, oh, like Richard Burton who as Elizabeth Taylor described bought gifts "just because it's Tuesday" and could land treasures like the Taj Mahal diamond and La Peregrina Pearl at auction, and when outbid on a 69.42 carat diamond would buy it back from the higher bidder, Cartier for .5 million more, I could be very happy with a guy so—resourceful. I could be equally content with a collection cultivated from the pieces I saw during this past two days. Of course there would be other pieces I would eventually add, which I would purchase outright and by myself — because a woman cannot live by jewels won at auction alone. I'd cab right over to A La Vieille Russie for a find or two, F-D Gallery, Kentshire and Fred Leighton and hop a flight to London to pop round to Wartski, S.J Phillips, Bentley & Skinner, and then off to the renowned houses in Paris. But, for now we are talking about the bidding which is about to begin and so I have made my choices and in my fantasy world, before I send someone to do my bidding and before the hammer goes down—let me share my favorites and why I have chosen each one.
From The Sotheby's Magnificent Jewels Sale
A Tiffany & Co. pendant watch with guilloche enamel foliate design, old European cut diamonds, dial and movement, both Tiffany & Co, circa 1900.This is a must—a girl always needs to know what time it is! I personally also might need quick escape from a first date and it would be impolite to look down at a timepiece on my wrist –so obviously, when a pendant watch could be just turned over nonchalantly. And, how many ways could you wear it. Let me count a few. On a chain, on the lapel or pocket of a jacket, pinned up on long chain to the side of a sleek dress.
Cartier oval shaped untreated Burmese star ruby 13.4 x10 by 7.8 mm, flanked by round and square cut diamonds. Well just have look. And that one look says it all. Rubies are my favorite stone and it's just the perfect little pinky ring.
Castellani Archaeological Revival Gold and Colored Glass Bead necklace with grapevine leaves in gold and grape clusters in purple and green glass, 1880. I have been to Villa Giulia where there is a permanent collection of Castellani jewels and have always wanted to own a few pieces of varying looks and this necklace is such a fine example of the workmanship and style of that era. But I am not giving up on at least one micro-mosaic piece to add to my collection, when I find it.
Silver topped gold and diamond pendant necklace with European cut and old mind cut diamonds, 25-carats. French hallmarks late 19th century. The perfect wear-anywhere late Victorian necklace. The silver topped gold and the old cut diamonds allow it to be worn for day without looking ostentatious. Well, with the exception of riding the subway, walking the dog, or sitting at home in sweatpants or flannel pajama pants and typing articles or blogs like these. I will be very strict with my final bidding price on this—oh but this is my fantasy—Dog walkers and car services and assistants all figure into this life—so the necklace is definitely a go.
Platinum 18k Gold Tanzanite, emerald, colored diamond and white diamond brooch, Donald Clafin for Tiffany & Co. As a serious collector, I am gaga for this piece. It was created when Tanzanite was first discovered. "Henry Platt bought, cut and polished it, especially for Tiffany & Co," the auction catalog states. And Frank Everett, Senior Vice President of Jewelry Sales confirms that it was one of 18 limited edition pieces that Claffin was asked to design. The size—a whopping 47.85 carats set into a flora and fauna motif is something I would like to have in my arrangement of jewels. And I am definitely a flower and brooch girl. Appreciation value and collectability all figure into my decision (in my fantasy world) of how high I am willing to go.
Art Deco Platinum Onyx and Rock Crystal diamond brooch with side tulip motifs, Cartier. Circa 1922. An extraordinary example of rock crystal and onyx during the Art Deco movement.  And, black, white, grey and some muted shades of mauve, cadet blue and olive green—is what my wardrobe consists of—can I possibly go wrong?
18K gold ruby sapphire, emerald and diamond Ballerina Brooch, Van Cleef & Arpels New York, which features a winged ballerina decorated with a tiara and floral bouquet, circa 1947. Where to start? I was studying to be a ballerina when I was five—but soon gave it up for modern jazz—but have been in awe of the movement and grace ever since I have could not spin on my toes—I can barely walk without klutzily knocking something over. Anyway I stray—I have always wanted to own a Van Cleef & Arpels ballerina brooch—ever since I first saw one—and this particular piece features all that I find magical—the tiara and the floral bouquet, could I ask for more?
Yes!
another brooch…
Platinum Diamond and Onyx brooch set with old mine cut diamond and calibre cut onyx, circa 1910-1915. There are numerous reasons why I love this brooch. I immediately see it worn across the top of a buttoned up white shirt, dress down with black leather jacket. I also am a huge fan of Jeanne Boivin who took over the house of Boivin after her husband Rene passed away in 1917. Although the brooch was designed while her husband was still alive, Jeanne became a pioneer in a predominately male business and she also had the foresight to hire Suzanne Beperron, one of the most talented female jewelry designers of the 20th century.
From the Bonham's Fine Jewelry Sale
I am in desperate need—okay, need is a bit strong but let's say I have been coveting a pair of day/night or detachable pendant earrings in emerald and diamonds. Viola, I found a perfect pair in platinum by Ruser. Each suspending a pear shaped emerald with round brilliant cut diamond surround pedant drops detachable. Signed Ruser.   Okay I am ready to move on…
From The Christie's Magnificent Jewels Sale
I was immediately attracted to two pieces that were from a small selection of the upcoming Christie's Geneva Jewelry Sale, which was on view in New York.
The first was up there as one of my two favorites at the Christie's preview—A RARE ENAMEL & GOLD BRACELET, BY BAPST & FALIZE. This was designed as a hinged band of nine translucent cloisonné enameled panels, each depicting elaborate and various-colored birds surrounded by floral motifs  against a pale gray ground,  The reverse featured a yellow enamel background with  various-colored leaves mounted in gold. Two bracelets in one, which are equally stunning and can be changed around at whim—or with someone who can help you with the clasp.
A diamond Bulgari Serpentini necklace – A red carpet necklace if there was ever one—just envision Naomi Watts in the one she wore and you've go the picture. But if I am going to have a guy similar to Richard Burton—why wouldn't we bid on a Bulgari iconic necklace. I can find no reason—how bout you?
A platinum and diamond bangle bracelet by Jean Schlumberger, prior to his collaboration with Tiffany & Co. It is diamond encrusted and my favorite part is that five flower blossoms are set en tremblant, circa 1940. It's a true collectors item and the moveable blossoms spoke to me—"bid on me, bid on me. I belong in your collection." I also like the all white platinum and diamond look. I love that whenever I move—the en tremblant pieces move with me and sort of shimmy and shake on my wrist. This is so mesmerizing—it could be a good hypnosis technique to focus on when I have writer's block.
I am also in awe of these three varying size graduated detachable Van Cleef & Arpels floral clip brooches, white on white with diamond line necklace. Oh the convertibility of it all. I can take the brooches off-wear them in my clustered in my hair, on the side of a sweater, across the neckline of a sweater on a dress or can wear one of a time on a lapel, a denim jacket… the list goes on. Not only is this beautiful but versatile as well.
Perhaps the one of the few jewels that actually works with my real life—but alas not with my budget, so it's best to stay in fantasyland for a little while longer. Absolutely head over heels for this platinum Bell Époque Rock Crystal and diamond pendant necklace with a pear shaped carved rock crystal plaque, with collet set old cut diamonds, circa 1915 with French assay marks.
Another jewel I can see wearing in my real life—but see above—same problem is this bracelet peeking out from a sleeve or completely exposed with a sleeveless or thin strapped slip dress or looking extremely chic with a grey T-shirt and worn jeans. It's an Art deco and emerald tassel bracelet crafted of baguette and hexagonal cut collet set diamonds. The flexible bracelet is set with rectangular cut emeralds suspending a diamond tassel with various cuts of diamond and emerald cap, circa 1925 with French assay marks.
And…the jaw dropper—the one that is akin for this ruby obsessed girl to Richard Burton's burning designer to what would be renamed the Taylor-Burton diamond.
The Jubilee RubyRuby Ring by Verdura—and how apropos as Verdura's ruby heart graces the cover of my most recent book "IF These Jewels Could Talk".
 To say goodnight to all of you who are dreaming in jewels and waiting to see the auction results or if you bid on any piece in real life—I end the blog with this oval shaped ruby weighing approximately 15.99, with circular cut diamonds—a magical, breathtaking-mind blowing Burmese ruby. While the Cartier star ruby can be my everyday ring—this will come out for special occasions—like leaving the house to attend jewelry events when I am not writing about them.
And here's to the Rocks on The Block this season and my new jewelry collection curated from them—in my own sweet dreams.