The celebrities at the 2014 71st Golden Globes Awards gave us our first glimpse into the jewelry trends for the year—Antique looks, white diamonds, statement rings (most direction when worn on the pinky), stacks of bracelets both Art Deco flexible styles and wand the warmth of textured gold in bracelets and earrings as well. Big names graced the necks, ears and encircled the wrists and fingers of both small and silver screen actresses—names such as Neil Lane and Fred Leighton for antique jewels, Lorraine Schwartz for statement pieces, Van Cleef & Arpels, Bulgari and Chopard for signed collectibles. As an equal opportunity jewelry addict, hare are few of my picks for the season. My advice is to either to invest in one piece that you will find joy in wearing and that goes with your own style or find versions of the looks that hit a responsive and emotional chord and that fit your budget and go with your wardrobe and then add them in. Either way, it's time shine in the New Year.
A BIT OF BLING
Cate Blanchett is flawless in Chopard green diamond earrings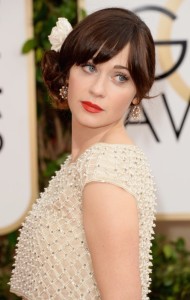 Zooey Deschanel offers a youthful spirit in antique Neil Lane jewelry
Margo Robbie plays up Old Hollywood glamour in these Van Cleef & Arpels earrings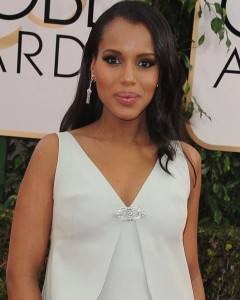 Kerry Washington does Deco Fred Leighton earrings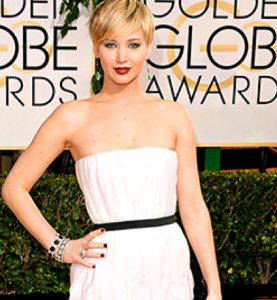 Golden Globe recipient Jennifer Lawrence stacks the wrist in Neil Lane bracelets
Jessica Chastain rocks rows of diamonds
THE GLOW OF GOLD
Naomi Watts goes bold yet feminine in a statement necklace and Bulgari bracelet
Golden Globe recipient Amy Adams rocks Lorraine Schwartz gold and diamond ultra long chain with pendant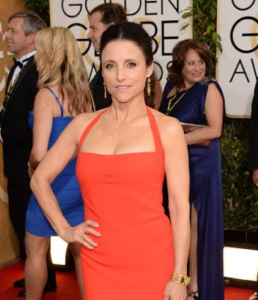 Julia Louis-Dreyfus basks in golden antique earrings and bracelet from Fred Leighton
Julianna Margulies accessories her gold accented dress with earrings and a delicate tassle bracelet
Golden Globe recipient Amy Poehler wore gold bracelets, one on each wrist.